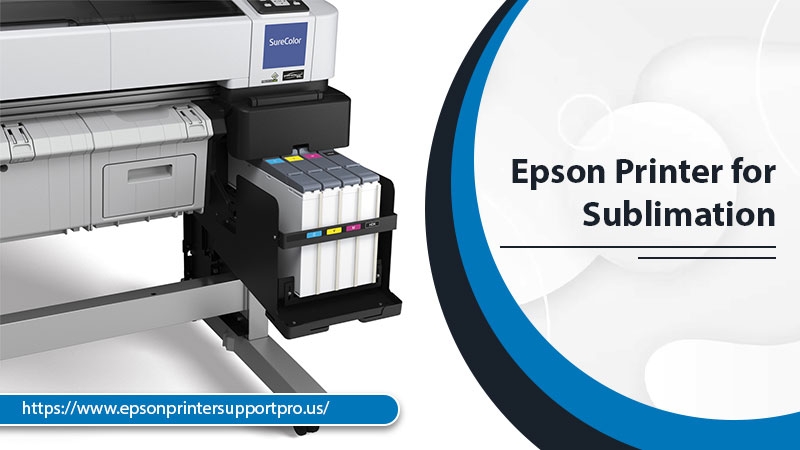 Top Epson Printers for Sublimation and Their Features
An Epson printer for sublimation offers reliable operation, great quality, and lightening fast print output. The dye sublimation printers from Epson are ideal for businesses of varying sizes. Startups, medium-scale businesses that have established themselves, and large-scale businesses with consistent output needs can use a sublimation printer from Epson. 
Moreover, you can also convert an Epson Eco Tank InkJet printer into a sublimation printer. These printers can support very wide ranges from 24", 44" to 64" and prints beyond 64". In this handy guide, we will list the best sublimation printers from Epson and the printers you can convert and use for sublimation.
Which Epson Printer Is Best for Sublimation?
There are various Epson printers that can be used for sublimation. Here are the models you can convert.
Epson EcoTank Printer Models – These models have a separate ink tank module and no ink cartridges. So, the user just needs to attach the bottle of ink with a specific nozzle to fill it with color. 
SureColor Series – The Epson printers for sublimation

from the SureColor series offer a high-quality industrial printing output. Many of its models, such as the F170 Dye – Sublimation Printer work seamlessly with PrecisionCore MicroTFP printhead, which allows you to customize items. 

Epson Workforce Printers – These are divided into variants with regular cartridges and those with super tank branding. The difference between the two is regarding their output. The one with a regular cartridge will be adequate for only those who are fine with working with syringes to fill up their cartridge. 
Key Features of the Best Epson Printer for Sublimation
The official Epson website lists SureColor F170, F570, SureColor F10070H, F10070, AND F9470 as the best printers purpose-built for sublimation. It also says that the SureColor dye sublimation printers are ideal for industrial high-volume apparel and décor printing. 
Some of the key features of the SureColor series of printers are as follows:
These printers are desktop solutions for custom dye-sub printing. 

Both Windows and Mac OS users can use it to get vivid color and commercial-grade dependability.

These printers are ideal for creating customized items like coffee mugs, mobile cases, and clothing. 

Epson SureColor F10070H, F10070, and F9470 have advanced ink technologies. They are also ideal for custom-printed products. 

These printers have Ultrachrome DS6 ink for exceptional image quality, numerous ink configurations, auto paper-tension control, and Epson Edge software for complete workflow integration. 

SureColor printers have performance optimization features, like Job Connection. This feature enhances throughput by taking activities between jobs. 

The Multi-layer Half Toning leads to consistent print quality. This happens even if the factory environment is harsh.
Should You Convert Epson Printer to Produce Sublimation Designs
Epson Eco Tank printers are easy to convert to sublimation. Converting an Epson Eco Tank printer for sublimation is cost-effective, especially if you don't own a top-notch sublimation printer. But you need to follow this process of conversion very carefully. Otherwise, you will interrupt the entire process. 
Apart from buying a sublimation printer, you can order sublimation prints or cut pre-printed sublimation ink sheets. In the next section, you will see how you can convert an Epson Eco Tank printer for sublimation ink.
NOTE – Converting an Epson EcoTank printer into a sublimation ink will void the warranty. This process will take about 45 minutes.
Things to Convert an Epson Eco Tank into the Best Epson Printer for Sublimation
You will require the following things to commence the conversion process. 
An Epson Eco Tank printer of any model.

A USB printer cable is optional. It is faster than Bluetooth, so we recommend it.

Bottles of sublimation ink of a good brand. Do not get the ink that can be used only with a syringe.

Sublimation paper. If you don't have it, get a laser copy paper.

Your laptop or a desktop computer. It can have a Mac or Windows operating system.

Something to test the shades, although it is optional.
Convert Epson Eco Tank Printer for Sublimation
Unpack the printer's box and remove the tape and other packaging material. After that, follow these guidelines.
Now, you are ready to plug the cord into your printer. Plug the cord into the printer first before the wall outlet.

Use sublimation ink from a reputed brand to fill the tank. 

Lay down some butcher paper under your printer. Wear your gloves to contain any spills.

Open the ink cover. Open the ink cover for the color you are filling. 

Ensure that the seal at the top of the ink is not there.

Reattach the top, turn it over, and click it in. 

When the ink moves inside the ink tank, you will hear it chugging. 

Look in the window to see how much ink has been filled. 

When the ink tank is full, you will hear a different-sounding gurgle. 

Lift the ink straight up, turn it over, and cover it up.

Close the mouth cover tightly before repeating the process for the next color. 

Place the colors in the order that the tanks are labeled. It will ensure that you are putting the correct ink color in the correct tank.

Securely close all the ink tanks. 

Now, press the '

Power

' button. 

Let its light turn on. 

Hold the button that resembles the printer for five seconds. It will make the printer charge the printheads. 

This process will take around 11 minutes. 

Meanwhile, access the epson.com/support/et2400 website on your computer. 

Choose the right operating system to download the correct drivers and utility. 

Accept the agreement and choose the option that you have filled the ink tanks. 

After installing the software, register the printer. 

Now, you can take out a test page. 
Now you have got your Epson printer for sublimation. 
Frequently Asked Questions
Can I employ any Epson printing device with sublimation ink?
Among the various Epson printer models, those from Work Force and EcoTank series are best for converting. You can add sublimation ink and make them ready for your project.
How is Epson printer ink different from sublimation ink?
Sublimation heat transfer printing requires sublimation inks. Regular Epson printer ink is not compatible with sublimation paper. The sublimation ink is ideal for sublimating textile products. This is not the case with regular Epson printer ink. 
Which Epson printer is best for sublimation and good print quality?
The best Epson printer for sublimation is from the SureColor series. They offer consistent print quality, smooth gradations, and constancy of color under varying lighting conditions. Another good option is the Epson EcoTank Photo ET-8550 SuperTank printer. 
Summing up
Epson printer for sublimation is excellent for printing versatile and on-demand prints for various applications. You can explore various options for dye sublimation printers from Epson we have listed in this article. If you find them expensive, try converting an Epson EcoTank Printer or InkJet printer for sublimation.