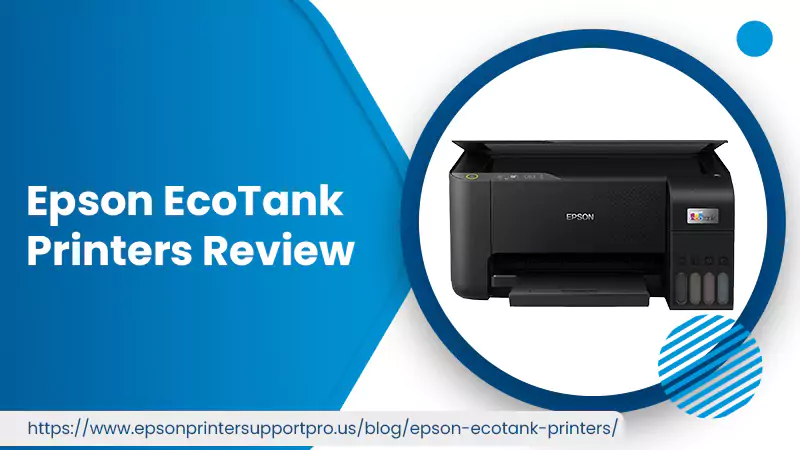 Epson EcoTank Printers Review And How To Refill Ink Tanks
Purchasing expensive cartridges and replacing them from time to time can put a hole in your pocket but with Epson EcoTank printers you don't have to worry about that anymore. EcoTank printers consist of a refillable ink tank system that doesn't require you to change ink cartridges. Whenever your EcoTank printer runs out of ink you can simply fill the tanks and continue with printing. There are various types of EcoTank printers available such as monochrome printers, photo printers, color printers, and EcoTank printers with A3 and A4 sizes.
Epson EcoTank Printer's Easy To Refill Tanks
At first, it might seem like a daunting task to refill the ink tanks of EcoTank printers but it is a very simple process if you follow the correct procedure.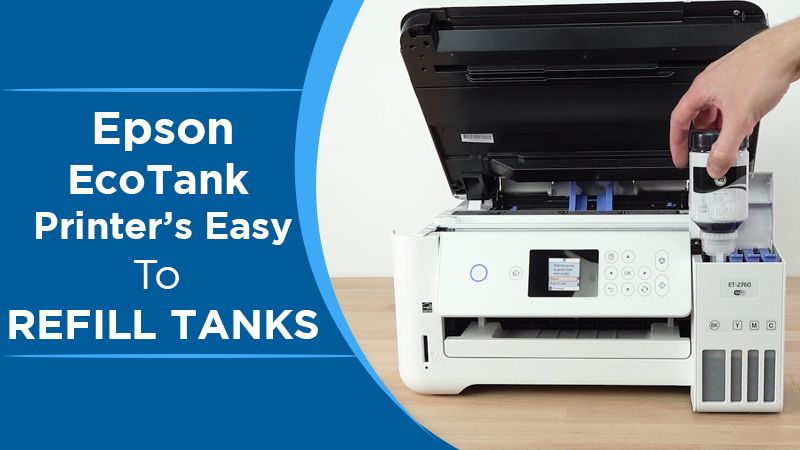 When you unbox the printer, you will find four different ink bottles, one for magenta, yellow cyan, and black within the box. For the installation, you will also find a pair of gloves that you need to use in order to avoid getting stained from the ink. However, that shouldn't be a problem as long as you are careful.
Filling the tanks with ink is simple. All you need to do is twist the top cap of the tank in order to break the seal first. Then you can simply turn the bottle over the tank and squeeze until it's empty. Once you have refilled the tanks, it will hardly take up to 20 minutes for the printer to prepare the ink for printing.
It is also easy to monitor the ink levels of your printer's ink tanks at any time as it has a translucent window on the side of each tank. With the help of this, you will always know when you are running out of ink and when you should order them.
Cost per page of Epson EcoTank Printers
According to Epson, it will take about 2 years of moderate printing to use up the ink bottles that come along with the Epson EcoTank printer. Whenever you will need a refill, one color tank including the black bottle will cost you around $13 each or around $52 for the entire set.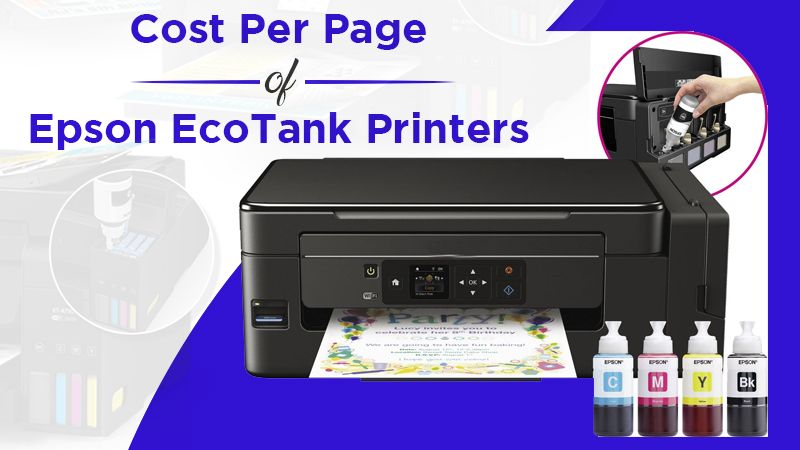 If we calculate the approx cost for printing black only or full-color pages with the pages that came along with the Epson EcoTank, it will be around 0.3 and 0.2 cents per page. As you can see the cost is much lower as compared to any other inkjet printer. Also, you can cut the price even more by using the XL size ink bottle provided by Epson.
Review of Epson EcoTank Printer Performance
Epson EcoTank printers are well equipped and can handle medium to high volume printing jobs with minimum latency. We ran one of the Epson EcoTank printers (ET-2550) from the CNETs internal speed test and found the following data.
The ET 2550 can print around 8-9 plain black pages in a minute.
And 2-3 complete color graphics pages in a minute.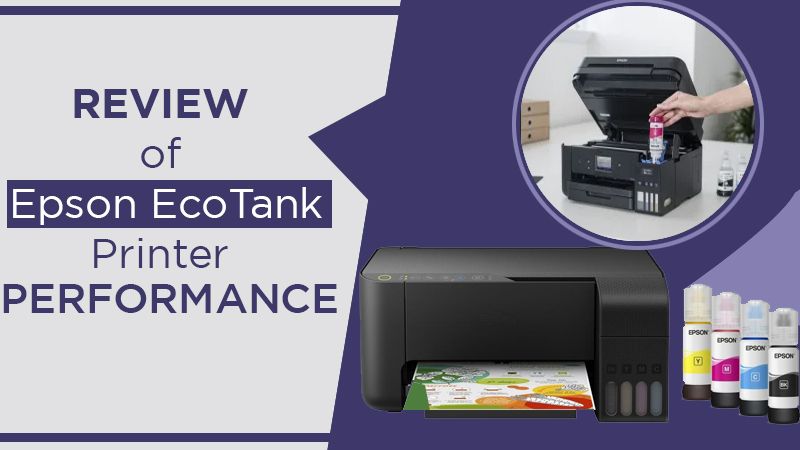 This concludes that the Epson EcoTank printer is a baseline inkjet printer with large ink tanks. The performance of the ET-2550 Epson EcoTank Printer can be compared to the XP-420 Epson inkjet printer.
Not only that, but the EcoTank printer is also impressive in terms of printing quality if compared to traditional cartridges. The black printout quality produced by these printers is almost indistinguishable from other cartridge-bearing Epson printers.
The overall printing quality of EcoTank printers can be compared with the crispness of expensive laser printers.
How To Refill Epson EcoTank Ink Cartridges?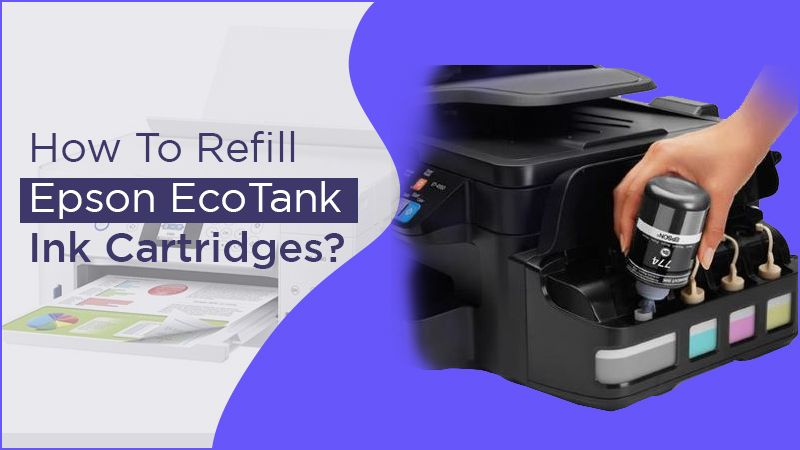 First of all, you need to turn on your EcoTank printer. Now, check the power indicator, It must be stable and not flashing.
Now have a look at the LCD of your printer, if you see a notification for resetting ink levels, click OK to do so. You can also reset ink levels directly from the menu settings.
It's time to uncover the ink tank reservoir. Just unscrew the ink tank cap and keep it somewhere secure using the cap holder.
Take the ink bottle and open the cap. Remove the protective seal completely e all the do not throw away the cap as you might need it to seal the bottle once again.
Fill the ink tank till the indicative line. You wouldn't face any issue filling the Epson EcoTank printer's ink tanks as it is designed in a manner that will automatically stop once the tank is filled.
If there is any ink left in the bottle, seal the bottle tightly with the cap for future use. Also, close the ink tank using the cap properly.
Repeat the same procedure for the remaining tanks and refill them all.
Close the ink tank unit cover and heat ok once you are done.
At last, you need to select the ink tank that you have just refilled using the left and right arrows and press OK again.
Once you have refilled all the tanks, you can reset ink levels and continue with printing.
Need help with filling ink tanks or resetting ink levels? Contact Epson Printer Support experts for online assistance.
Summing Up
Epson EcoTank printers can save you a lot of money if used consistently for a few years to eliminate the initial retail price. Go for EcoTank printers if you don't want any extraneous features included in other Epson cartridge-bearing printers.
However, if you don't intend to keep the Epson printer for the long term, then you should go for other traditional Epson inkjet printer alternatives. One such example is expression XP 420 Epson inkjet printers that will cost you around $50. Although you should know that it is an old razor blade business model that will require you to pay around $30 for black refill cartridges and $17 for each colored one.
Now if you want to go with the EcoTank printers only but need more features you can think about EcoTank ET 4550 that will cost you around $100. Although, it will be worth your money as you also get 150 sheet paper input capacity, along with increased ink capacity per reservoir, a dedicated fax machine, and also an Ethernet port.