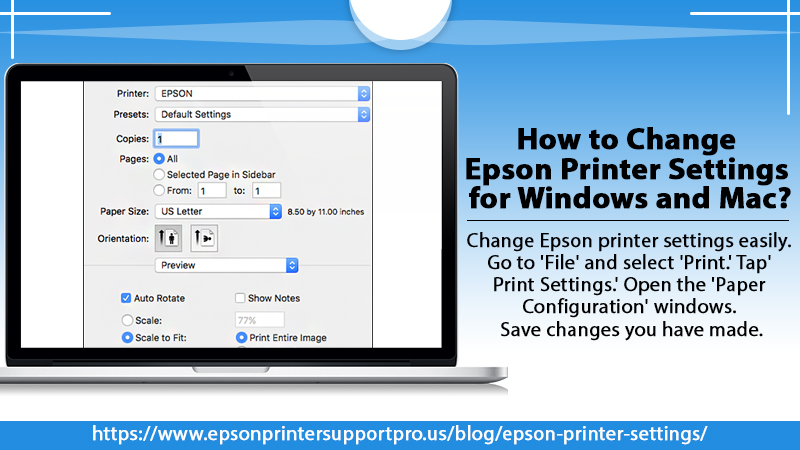 A Complete Guide to Change Epson Printer Settings Efficiently
Printers have become an item of absolute necessity, both at the office and at home. Today, working professionals are not the only ones who need a high-quality printer for getting printouts of their official work. Children also need it for their school work.
There are numerous brands whose printing devices are available in the market. One of them is Epson. The brand provides highly advanced and reliable printers for commercial as well as office and home use. It has some generic settings that are built into its driver. But you can also change them and customize them according to your preference. You can then use them later.
Keep reading to know how to change Epson printer settings easily and use it more efficiently for Windows and Mac.
How to Make Changes to Epson Printer Settings?
You can easily change the printout's quality by changing settings in the printer driver. These changes can be made by selecting from a range of predefined settings. You can also customize the settings.
Change print quality through automatic settings

.
The printout's quality can be changed in terms of details and speed. There are two print output levels, namely, 300 dpi and 600 dpi. Although the latter gives better quality and more precise printing, it needs greater memory. It can also significantly slow down the speed of printing.
When you choose 'Automatic' on the 'Basic Settings' dialogue box, the driver will manage all the settings as per your selected color setting. You are only required to make color and resolution settings. In many applications, you can change orientation or paper size. Go through the steps mentioned below to change print quality through automatic settings.
Launch the 'Print' dialogue box.
From the drop-down list, choose 'Printer Settings.' Now, choose the tab of 'Basic settings.'
Tap' Automatic.' Now, select the resolution from the drop-down list.
How to Customize Epson Printer Settings
Do you wonder how do I change Epson printer settings and customize them? You can do it with your current driver. After setting the custom settings, you can save them for use in the future. Here's how you do it.
Go to 'File' and then select 'Print.' Now change the settings so you can see properly what's listed there.
Tap on 'Print Settings' and change the settings according to what you are seeing here.
Open the window of 'Paper Configuration.' Configure the Platen Gap to 'Wider.'
Save the changes you have made. Beside the field of 'Select Setting', you will see a button of 'Save/Del…' Click it.
You will see a window popping up. Input your product name in the field of 'Name.' Then click 'Save.'
You're done customizing the settings. Now you can simply recall these settings by choosing your new preset. It will save much of your time. For any problem during this process, seek Epson printer support.
How to Access the Printer Software for Windows?
People generally ask, how do I access my Epson printer settings? You can do so from a majority of Windows applications. When you access software from a Windows application, your new settings will be available only to your current application. But when you access the software from the 'Start menu or the taskbar, your settings will be applicable to all Windows applications. To access printer software from Windows applications, follow these steps.
Tap' Print Setup' from the menu of 'File.'
Tap' Printer, Setup, Options, Preferences' in the dialog box. You can also tap 'Properties' instead.
According to your application, you will be needed to click any one option or a combination of the buttons mentioned.
You can also access the printer software from the 'Start menu and taskbar. Follow these steps for it.
Windows XP users should click 'Start' and go to 'Control Panel.' Then tap 'Printers and Faxes.'
Windows 98, Me, and 2000 users should tap 'Start' and then go to 'Settings.' Then, tap 'Printers.'
Windows XP and 2000 users should choose 'CX6600' then tap 'Printing Preferences' on the 'File' tab.
Windows 98 and Me users should choose 'CX6600' then tap 'Properties' on the 'File' tab.
If you want to access the printer software from the taskbar, right-click the icon of the printer on it and choose 'Printer settings.'
How to Set Default Epson Printer Settings?
You can set the default settings on Windows and Mac. Remember that on changing the print settings in your printing software only, the change will be applicable only for the current single print session. It will not be there when you use the software again at a later date. Change the default print settings for Windows by following the steps below.
Windows
Changing the default settings for various versions of Windows can be done through a few simple steps. Go through them below.
Windows 10 – To change Epson printer settings – Windows 10, tap on 'Settings,' and then go to 'Devices.' Now, navigate to 'Printers & scanners.' Choose your printer and then choose 'Manage.' Then tap on 'Printing Preferences.'
Windows 7 – Tap the Windows icon and choose 'Devices and Printers.' Right-click on your printer and choose 'Printing Preferences.'
Windows Vista – Tap the Windows icon and choose 'Control Panel.' Then select 'Printers.' Right-click on your printer and choose 'Printing Preferences.'
In all of them, choose 'Default Settings,' then tap 'OK.'
Mac
Changing the default settings for Mac is also simple. Follow these steps.
Open any document and choose 'Print.'
Ensure that you have selected your product properly.
Choose the print settings you wish to save.
Tap on the pop-up menu of 'Presets' and choose 'Save As.'
Type in your preset name and select if this preset can be used with the selected printer or with any printer. Tap 'OK.'
Click the 'Presets' pop-up menu when you want to print.
Choose your preset and tap 'Print.'
After selecting a preset, it will be chosen on its own in the print dialog until you select another one.
In case you don't desire to create a preset and only want to print with the recent print settings you chose, click 'Last Used Settings' in the presets.
Final Words
Now you can easily set Epson printer settings and get the desired result. You can change print quality through automatic settings and also customize the settings with your current driver. Furthermore, you can set default printer settings for Windows and Mac devices. If you find any problem in doing so, connect with Epson printer support.